News
Dr Henry Stead (The Open University) joins the READ-IT team (8.05.2019-30.04.2020)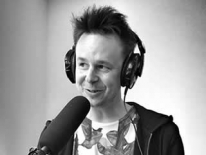 Dr Henry Stead (Postdoctoral Research Associate, The Open University) has now joined the READ-IT project team for 12 months, from 8.05.2019 to 30.04.2020. He is based at The Open University and is a member of the UK team led by Dr Shafquat Towheed.  He will be covering Dr Maya Parmar's maternity leave.
Dr Stead is a classicist by training with a specialism in reception studies and has worked on a number of externally funded research projects; he has also contributed to the UK-RED project. You can see his web profile here and he is on twitter at @henrystead, see https://twitter.com/@henrystead. His monograph on the reception of Catullus in Romantic period Britain, A Cockney Catullus, was published by Oxford University Press in 2015.
Dr Maya Parmar will be returning to work from maternity leave in April 2020 for the final year on the READ-IT project. So in the meantime from now until 30.04.2020, for all dissemination and public engagement activities, news and queries, please contact Henry at Henry.Stead@open.ac.uk and READ-IT@open.ac.uk, and also via the dissemination channel on Slack.
Welcome Henry to the READ-IT project team!